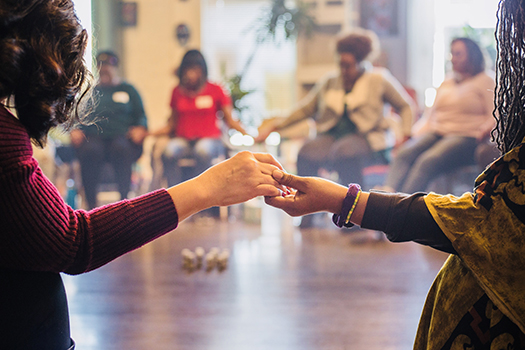 Reparations
For several years, the women of Soul 2 Soul Sisters have been working for reparations through chanting, prayer, meditation, teaching and preaching. We also welcome reparations to assist in sustaining Soul 2 Soul Sister's transformative work. Recently Colorado Public Radio aired two powerful interviews about reparations. One interview featured Soul 2 Soul Sisters - we received a $200,000 personal, partial, reparation from an anonymous person who recently heard a tape revealing that her grandmother's grandmother was gifted an enslaved girl named Alice. #SayHerName #Alice
Listen to the full interview here:  "After Two White Colorado Women Unearthed The History Of Their Slave-Owning Ancestors, They Turned To Reparations"
To speak with Soul 2 Soul Sisters about reparations giving, please contact us at info@soul2soulsisters.org or call us at 720-295-4876.
Reparations as economic justice and healing justice are interwoven in Soul 2 Soul Sisters' racial justice approach. In all of our anti-racism work we more deeply explore the United States of America's multigenerational reality of slavery, historic and present-day systemic racial plunder and discrimination, this country's racial wealth chasm, we discuss those realities and many others all while synchronously engaging in African healing ritual and discussing reparations as right and righteous.
Soul 2 Soul affirms reparations as:
Acknowledgment of the horrendous sins committed by white people against Black people historically and presently – as America continues it's addiction to free-labor on the backs of Black people, Brown people and historically marginalized people.
Apology for the horrendous harms committed by white people against Black people historically and presently.
Compensation that includes money, universal health care, universal education, employment and more.
Conciliation – Plans for cultivating mutual, endearing, egalitarian relationships with Black people toward building hospitable and just systems and communities.
Many of us are familiar with Ta-Nehisi Coates' 2014 article in the Atlantic entitled, "The Case for Reparations" in which Coates presents the economic impact of enslavement on Black people. In his article Coates says, "Reparations beckons us to reject the intoxication of hubris and see America as it is – the work of fallible humans. An America that looks away is ignoring not just the sins of the past but the sins of the present and the certain sins of the future."
So that we are clear that Black people have been fighting long and hard for reparations, in Mary F. Berry's wonderful book entitled, My Face is Black is True: Callie House and the Struggle for Ex-Slave Reparations, Berry shares the story of a Black woman warrior named Callie House who was an ex-slave. #SayHerName #CallieHouse. During the late-1800's, Callie House mobilized more than 300,000 ex-enslaved Black people to secure pensions for their unpaid labor. Barry writes: "Through cajoling and explaining, House inspired the old ex-slaves to exercise their rights as citizens to demand payment for their long suffering.  She … listened as they shared stories about their lives under slavery. Often in tears, aging and ailing men and women recalled bring treated as less than human during their years of unpaid labor for masters who sexually abused slave women, broke families apart, and who had 'the power to whip them to death.'"
We hope you will take time to listen to the CPR reparations segment. May we all experience some level of encouragement and commit/re-commit to ending anti-Black racism using approaches that center acknowledgement, apology, reparations and healing practices.