Self-Love Saturday for Black Queer Beloveds 🏳️‍🌈
June 25 @ 10:00 am

-

12:30 pm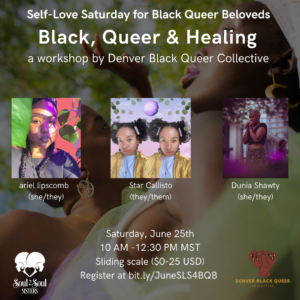 Soul 2 Soul Sisters is thrilled to collaborate with Denver Black Queer Collective to hold intentional space for Black Queer beloveds to connect and experience healing modalities in community for Self-Love Saturday for Black Queer Beloveds in June! Reserve your virtual seat TODAY!
Also — per the sign-up page, this gathering is for self-identified Black LGBTQIA+ beloveds. Please respect the sanctity of this space.
✨ Self-Love Saturday for Black Queer Beloveds in June DETAILS ✨
TITLE: Black, Queer & Healing
DATE: Saturday, June 25, 2022
TIME: 10:00 a.m. – 12:30 p.m. (MST)
LOCATION: Virtual (Zoom link provided upon RSVP)
COST: Sliding Scale ($0 – $20 USD). If you would like to receive a no-cost ticket, please email our Healing, Health & Joy Coordinator, Briana Simmons (she/her) at briana@soul2soulsisters.org. Please note that the no-cost tickets are limited and reserved for those who are financially strained.
WORKSHOP DESCRIPTION: Together we will explore the beliefs that everything around us has energy, even that which is not technically alive, and everything you need is already inside you. We'll engage in rich and much-needed conversation, develop healthy energetic boundaries, and discover paths to healing and empowering every facet of the person named you.
FACILITATOR BIO(S):
Hi I am Dunia (she/they), An Afro-american who is passionate about all things frequencies and sharing those gifts with my community. As a Practitioner, Vocalist, Musician, and Spiritualist. My goal is to share my gifts and encourage you to elevate your spiritual journey and development through tools I have used my whole life. Everything you need is already inside you and my aim is to help you connect with spirit to gain that clear direction to heal and thrive in every aspect possible. I provide Tarot readings, Sound Bath sessions (private or group), and art installations to promote community. I want you to be able to trust in yourself and your own gifts while developing healthy energetic boundaries.
Star (they/them) is a humanistic astrologer and spiritual practitioner. They integrate traditional Filipino animism, which is the belief that everything around us has energy, even that which is not technically alive, into their practice. They have been studying astrology and spirituality for Eight years, and have been offering spiritual guidance and readings since 2018.
Star's practice is trauma-informed and is centered around finding empowerment in all facets of the self, including parts of self most strongly impacted by trauma and negative self-perception. They are of the belief that complete self-acceptance, rather than toxic positivity, is one of the best paths to healing and growth.
ariel lipscomb (she/they) is not the first witch in her bloodline and it is her personal mission to not to be the last. raised by a southern clairsentient cartomancer she has been walking with the ancestors since before birth. a Black, queer, disabled organizer, healer, herbalist, poet, artist, and witch serving looks, and giving life in blessed community on the unceded land currently known as denver, colorado ariel was raised to trust in her inner knowing just as well as the other five senses. having had many callings in alignment with her purpose as a healer, the main focus of her current work stems from heeding the beckoning call of the spirits of plants. ms. lipscomb's organizing work is inherently tied to this magic. her core intention is always to work collaboratively with her community to continue ushering healing to the forefront of the revolution together. her medicine and ministry are no small facets of that endeavor. founder of Chokecherry Apothecary, ariel is fiercely committed to enabling her community to heal themselves as a radical act one being at a time.
the Chokecherry Apothecary craft is rooted in formulating homespun remedies for the physical, mental, and spiritual body with mindful adherence to cultural sustainability. when you seek anything from smoke blend alternatives (to sacred, commodified herbs like white sage) to anxiety support tea to plant cartomancy this is your medicine woman. learn more about her work at www.chokecherryapothecary.com
Registration Deadline is June 22, 2022 by 11:59 PM (MST). Click here to reserve your virtual seat TODAY!!!