Guided by Nature Digital Exhibit Launch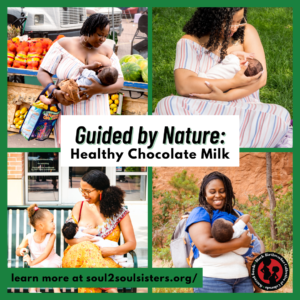 August 25th – 31st is Black Breastfeeding Week and Sacred Seeds Black Birthworker Collective is kicking it off the with a digital exhibit – Guided by Nature: Healthy Chocolate Milk! This exhibit is a homage to the sacredness of the full spectrum of the Black breastfeeding experience – the questions, fears, joys, stress, celebration, peace, health and wellness for a birthing person and their baby while highlighting how the lactation journey fits within the everyday lives of Black Mamas. Visit soul2soulsisters.org/ to listen to the stories!
On Thursday, August 25, (throughout the week & beyond) we're asking community members, partners, and the public to help us amplify the #GuidedByNature storytelling project by sharing it on your social media, within your professional networks, and to your personal community.