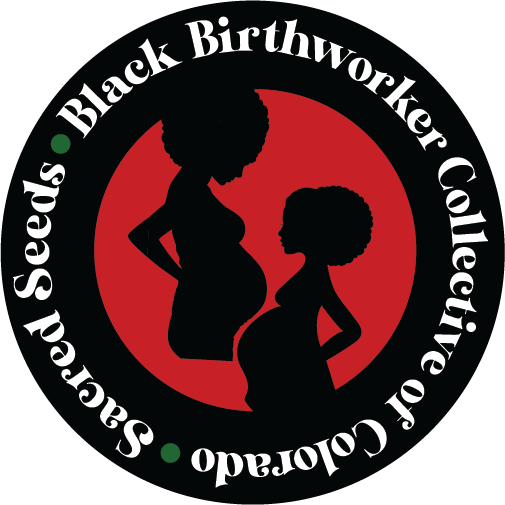 Sacred Seeds Black Birthworker
Collective of Colorado Directory
Black Birthworkers are Saving Black Lives
Birth workers are highly trained and skilled non-medical professionals who provide physical, mental, emotional, spiritual, and informational support. Our birthworkers are equipped to provide clients with culturally relevant, holistic care and advocacy. The expertise of our birthworkers includes fertility, prenatal, labor/birth, postpartum, nutrition, energy work, lactation, massage therapy, maternal mental health, bereavement, abortion, and end of life care.
***Note: The origins of the word "doula" means "female servant" or "female slave" in Greek. Language matters. Words take on various meanings, symbols hold significance in our psyche, and our actions are reflective of it as well. For this reason, we are beginning to shift our language away from the use of the term "doula". Although it may be used interchangeably here, we identify as birthworkers or birth worker professionals and have officially changed our name from Sacred Seeds Black Doula Collective of Colorado to Sacred Seeds Black Birthworker Collective of Colorado. As a birthworker collective, Sacred Seeds is poised to provide lovingly holistic, valuable, and professional support to our clients.
We believe the most holistic care is possible when a client is supported by their midwife or OB-Gyn for medical needs and a birthworker for non-medical care.
Please refer to our Sacred Seeds Birthworker directory for more information on our birthworkers. Each birthworker listed has a bio that shares details about their expertise, a link to their website or social media, and contact information to inquire about a consultation.
Sacred Seeds birthworkers set their own rates and availability to provide services on a low-cost or volunteer basis.
As key components of any birthing team who have a unique set of skills to support birthing people, Soul 2 Soul Sisters believes that birth workers deserve an equitable wage. We understand that the onus is on our failed healthcare system for under-resourcing Black communities with the means to access optimal healthcare services, not individual birthing people. For this reason, our organization is committed to paying Sacred Seeds birthworkers for their expertise and services through grant funding and donations to the collective while also advocating for change through our programming.
For 2022, our quarterly Meetings are held in Summer - August 2, 2022 - 6 - 7 p.m. (MST) and Fall - October 11, 2022 6 -7 p.m. (MST)
This is a sacred space for Black birthworkers to connect, share resources, and offer updates. If you are interested in attending, email blackdoulas@soul2soulsisters.org for more information.
Please visit https://soul2soulsisters.org/donate  to submit a donation to our collective (select donation designation Care Package & Healing Circles for Black Women).  Anything you can offer to support us will go toward paying our birth workers, expanding our programming, and making resources available to our community. Thank you in advance!
Your path in birthwork will require continuous learning so ultimately who you choose to train with initially should give you adequate skills, confidence, and guidance in getting started. Aligning your training organization with your "why" and the goals you have in servicing your community is wise. Hearing feedback from previously trained birth workers of any organization can be helpful. When seeking training, you will also have to take into consideration time commitments, your learning style, and finances. Many training organizations have scholarships and/or payment plans available. 
Here's a few Black Women led organizations to consider for your training and certification goals: 
We're interested in partnerships that are in alignment with our values, position Black birthworkers as valuable, and center community-led initiatives in addressing the realities of Black birthing people and their families. If this sounds like you, please email blackdoulas@soul2soulsisters.org to discuss further.