Sacred Seeds Black Doula
Collective of Colorado
Black Doulas are Saving Black Lives
Sacred Seeds doulas are highly trained and skilled non-medical professionals who provide physical, mental, emotional, spiritual, and informational support. Our doulas are equipped to provide clients with culturally relevant, holistic care and advocacy. The expertise of our doulas includes fertility, prenatal, labor/birth, postpartum, nutrition, energy work, lactation counseling, massage therapy, maternal mental health, bereavement, abortion, and end of life care.
Through the Sacred Seeds Black Doula Collective of Colorado, doulas:
Connect with Black families who seek doula care.
Share culturally reflective information and approaches with Black families to increase Black Breastfeeding, honor and save Black lives, and end the disparities in Black maternal and infant mortality.
Increase community awareness regarding the realities of Black parents, infants, and families.
Receive support in accessing and completing continuing education opportunities aligned with holistic approaches to the reproductive health needs of Black birthing people.
Cultivate a network of communal support while receiving opportunities to prioritize their own healing and well-being.
A core component of our work is increasing Black breastfeeding rates via education, advocacy, and representation. Through the "Black Breastfeeding – The HEALTHY Chocolate Milk" program, doulas support Black Womxn through the full spectrum of the breastfeeding experience – the questions, fears, joys, stress, celebration, peace, health and wellness for birthing person and baby. Our breastfeeding work includes:
Social media campaigns.
Promotional "Black Breastfeeding – The HEALTHY Chocolate Milk" apparel (sold in our online store).
Lactation professional development for doulas.
Educational efforts i.e. virtual panel discussions promoting Black breastfeeding.
Brochures promoting Black breastfeeding.
Inspired by reproductive justice framework, we affirm that Black Womxn's health care must protect our right to raise children in safe and healthy environments, affirm our pleasure and sexuality, honor the decision not to become a parent, and support planned and healthy pregnancies.
Specifically, our work includes:
Journeying with Black Womxn who are deciding whether to have an abortion.
Working with state legislators to develop legislation that expands Black.
Womxn's access to reproductive health care including abortion.
Engaging in relationship-building conversations in Black communities toward ending stigma and shame concerning abortion.
Do you need to secure doula care?
Here are the steps!
Step 1
Complete a doula services inquiry form:
Step 2
Schedule a phone chat with our Client Coordinator who will assist you along the next steps.
Step 3
Interview a few doulas who are in the Black Doula Collective of Colorado to determine the doula who is a good match for you and your family.
Step 4
After selecting your doula, the two of you will work together on agreed upon services.
Last year, Sacred Seeds Black Doula Collective of Colorado launched Mahogany Mothers Circle to provide loving gatherings for Black Mamas led by Black Mamas - these circles of support for Black Womxn are vital especially during this season that can feel isolating in the midst of the COVID-19 pandemic.
Mahogany Mothers Circle are FREE, bi-weekly, virtual gatherings that are facilitated by Sacred Seeds Black Doula Collective of Colorado leadership. These gatherings are for all who identify as a Black Mom/Mama/Mother/Mommy as we come together to support one another through every stage of motherhood.  For more information and to register for Black Mama Magic, click here.
Do you have questions for us?
Marpessa Allen is a Colorado native and a mother of four. Her unique gifting in community activism and policy inform her true calling as a Doula. She joined Sacred Seeds Doula Collective because it is a blessing to journey through life with other committed birth workers. She has discovered how profound the strength of a people are when we authentically show up for one another.
Her background is a tapestry of motherhood, community organizing, and family policy initiatives. What truly makes her heart sing is ushering in a new chapter of a mother's life. It's her belief that we all have the same thing in common within the first minute of being born. We learned to take our first breath. She loves smiling, dreaming and thriving.
Olivia is a doula with a background in mental health and a love for dance. Olivia began her career in mental health with a passion for supporting others while studying psychology in school. After earning a B.S in Psychology she went on to support youth and adults in mental health programs. After the birth of her first child, Olivia's passion for supporting individuals and families grew to include doula work. She trained as a birth doula in 2016 and volunteered with the Denver Health Doula Program and Prenatal Plus Doulas. Olivia continues to pursue new knowledge and skills to support each family in their unique journey.
Kendra is a woman of faith arising from African Diaspora and born and raised in Denver, CO. She is a certified Doula, holds an Associates in Business Administration and is pursuing a B.S. in Pre-Midwifery at Metropolitan State University in Denver Colorado. She previously worked with women using Hydrotherapy, Herbal therapy, and Lifestyle coaching in many states across the nation including Georgia and Michigan. She also had the opportunity to serve women overseas in Ghana and Togo. She loves music, reading, and cultures and she is passionate about making systemic changes to oppressive systems.
With a growing passion for health and wellness, she's incorporating that into her daily life by taking time to do the things she loves. When she has the chance, she absolutely loves music, dancing, spoken word, art, and enjoy cooking and feeding people! With Love, Inner Peace, and Hair Grease ???? Ase'
Shelby Irvin is a natural, breastfeeding, home birthing, babywearing mama of 4 who believes birth is just as much spiritual as it is physical! Through her personal experiences and trainings with ALPP, DONA, and CAPPA, Shelby has vowed to help other mamas find their rhythm as they transition through the many phases of mamahood. As a Certified Lactation Counselor, Childbirth Educator and Prenatal, Labor/Birth, and Postpartum Doula, Shelby strives to create a safe place for mamas of color to be who they are without having to explain their mere essence with her practice known as The Soulful Mama. She resides and works in Colorado Springs.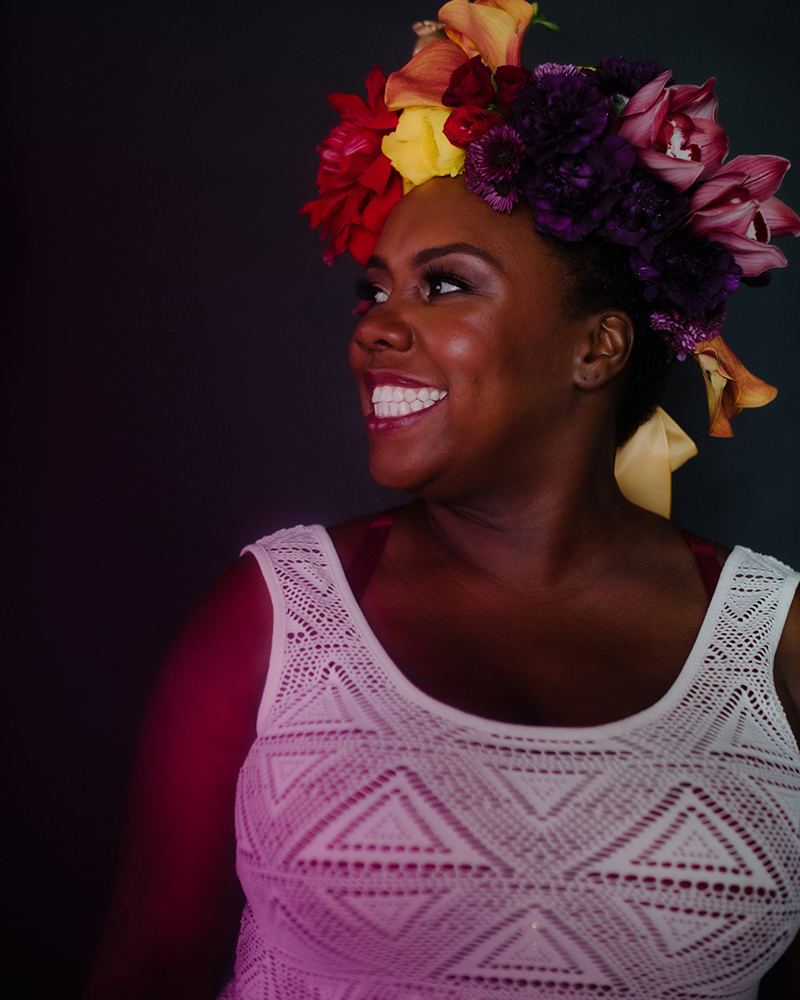 Kinyata Jackson was born and raised in Denver. She has been serving youth and community since she was a youth herself. After years of mentorship, advocacy, and classroom education, Kinyata expanded her reach in 2015 diving into public policy as a means for change. She furthered her learning in a 200hr YTT under Im'Unique United in 2016. From this training, Remembrance Wellness and Yoga was birthed out of a need to share the healing power of yoga with Black and brown people. She is certified in yoga, trauma-informed kids yoga, energy healing, and yoni meditation while currently pursuing certifications as a doula, lactation consultant, Prenatal yoga teacher, and Kemetic yoga instructor.
Birdie was born and raised in Denver, Colorado. She takes great pride and joy in her three children and is an avid reader and swimmer when she is not doing healing work and Doula support. She has been a doula for over three years and is a labor, postpartum, and infant care doula. Her favorite part of the job is postpartum doula support. Her passion for postpartum support is evident in the families she works with. Whether she is soothing a fussy baby or guiding parents through their baby's first bath at home, Birdie is, without a doubt, a baby whisperer. In addition to doula, support Birdie takes great pride in being the owner of Tru Love Wellness in Denver, where she is a healing practitioner. She focuses on meditation, massage therapy, and energy healing work. Her mission is to awaken your full healing potential and support balance to your mind, body, and spirit. She is committed to providing practical tools and soulful guidance for people to improve their physical, emotional, and spiritual wellness. 
Nyia IsRa Iman is a holistic Shamaness, freelancing herbalist, and full spectrum Doula originating from Denver, Colorado. She has her Bachelors of Science degree in Kinesiology and minor in Nutrition. Nyia IsRa has experience in prenatal and postnatal nutrition guidance, prenatal and postnatal exercise, and energetic practices. She is led in her work by her ancestral knowledge, intuitiveness, healing, and support. Nyia is passionate about supporting Womban in their uplifting, healing, spiritual, and nurturing journey. 
Ndeye Ndao is a native of Senegal who has a passion for community work and women empowerment. She currently works with asylees to help them get connected with resettlement agencies for services. Ndeye received her labor/birth doula training from the Rocky Mountain Doula and established her practice to support women during labor and birth fully. Because of her passion for helping women, Ndeye plans on taking her doula skills to Senegal shortly to support women. Healing, sisterhood and women empowerment led Ndeye to doula work a year ago, and she plans on continuing to learn and grow.
Celeste Ma'at comes from an ancestral lineage of healers, birth workers and medicine women that manifest through her work in Light as a Feather. She received her BA in Wellness for Marginalized Communities and focuses that degree on women's holistic healing. Celeste is a certified Reiki Master, Yoni Steam Practitioner, Full Spectrum Doula, Yoga Teacher and Wellness Coach.
Doula Collective Manager (she, her, hers)
Briana Simmons shows up to her doula work as a Black queer woman with a niche for writing and a background in human rights. Currently, she serves as the Black Maternal, Health, Healing & Joy Coordinator for Soul 2 Soul Sisters. After training with the International Center for Traditional Childbearing as a full circle doula, she established her own practice known as Unearthing Tradition. As a prenatal, labor/birth, postpartum, bereavement, and end of life doula in training, Briana is fueled by the desire to create dignified spaces for families to transition between life and death. Curiosity, vision, and a deep knowing led Briana to doula work almost 4 years ago and she plans to continue on this path until midwifery pulls her in a new direction.
Jahala is a Denver native, massage therapist, and certified birth doula aiming to bring holistic health and wellness to the forefront of the black community. She offers her services in-home, at Urban Sanctuary in the historic Five Points neighborhood, and during special events. Jahala was an Early Childhood Educator and nanny for 12 years before going into advising and massage, and my tools just keep on growing! As a licensed massage therapist for about 3 years, she is currently building her private practice. Jahala runs the communications on the board for my non-profit Yaa's Beautifully Equipped Scholarship.
With a growing passion for health and wellness, she's incorporating that into her daily life by taking time to do the things she loves. When she has the chance, she absolutely loves music, dancing, spoken word, art, and enjoy cooking and feeding people! With Love, Inner Peace, and Hair Grease ???? Ase'